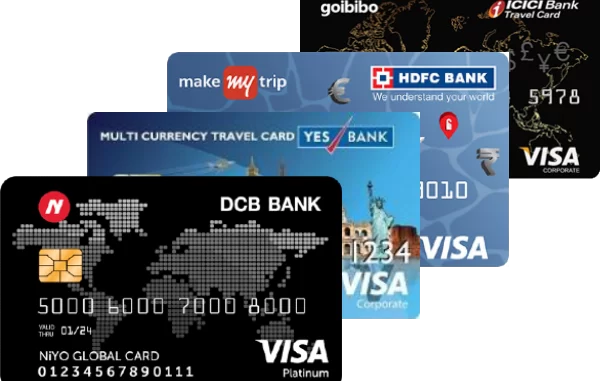 Are You Traveling Abroad for Business or Pleasure? Knowing Which Forex Card Will Best Suit My Needs. But How Can You Select an Appropriate One?
Check if the card offers no joining or annual fees, multiple currencies supported, and free ATM withdrawals.
ICICI Bank Forex Prepaid Card
ICICI bank offers the Sapphiro multi-currency forex travel card as part of their multi-currency travel offerings. The card features an embedded chip to allow for withdrawing currency at all VISA ATMs, protection against fluctuating exchange rates and free online banking; you even get Uber vouchers when loading certain amounts onto it!
You can obtain this card at all ICICI Bank branches and select forex vendors. With no cross-currency charges and valid for three years, as well as offering 3 lakh insurance against lost/stolen cards, it makes an ideal purchase choice.
Also unique to this card are its additional features that you won't find with other forex cards: instant reload and replacement card if lost or stolen; mobile app featuring currency converter, ATM locator, PIN change feature, balance inquiry/inquiry feature as well as blocking/unblocking capability and blocking/unblocking card functionality; currency conversion feature among them!
YES Bank Multi-Currency Travel Card
BookMyForex and YES Bank have come together to offer this multi-currency travel card with numerous advantages. Based on Visa technology, it provides benefits like chip & PIN transactions, back up card availability and an option to temporarily block it as well as the unutilized funds being kept or cashed upon return from travel.
YES Bank Prepaid Forex Cards can be easily ordered online or at one of its branches, loaded in multiple currencies and accepted at millions of merchant establishments, ATMs, and online stores worldwide. Digital top up orders can even be booked while traveling overseas via BookMyForex's website and app for added peace of mind while abroad.
A YES Bank forex card is the safest way to transport money while traveling overseas, yet you should select one carefully to meet all your money-related requirements during travel. One card cannot cover every scenario.
HDFC Bank Multi-Currency Travel Card
This card allows travelers to load 23 different currencies onto one card, making it ideal for frequent international travelers. With a locked-in exchange rate that eliminates currency conversion charges when making purchases, and secure chip and PIN technology for added protection when shopping, this card caters specifically to Indian tourists making international journeys and offers free membership in Miles and More which lets them collect award miles every time they use their card.
As an ideal way of transporting foreign currency abroad, HDFC Travel Card provides a convenient alternative to carrying cash or traveler's cheques with you. Furthermore, its lower ATM withdrawal fees and transaction charges offer discounted shopping and dining experiences, and contactless payment capability makes using it even simpler – plus emergency cash assistance and complimentary insurance coverage as an added perk! Reload online or at any HDFC branch within India!
ICICI Bank ISIC Student Forex Plus Card
If you are traveling overseas for study purposes, the ICICI Bank ISIC Student Forex Plus Card may be the ideal way to purchase goods and services without worrying about currency conversion or cash issues. Plus, with low exchange rates and charges you can load multiple currencies onto this card!
Apart from being ideal for students, this forex card provides several other benefits as well, including global recognition and instant reloading capabilities. Furthermore, there is insurance coverage and travel privileges.
Students looking for another excellent option could benefit from Axis Bank's Wise Borderless Card – this forex card enables users to send money in over 60 different currencies with low exchange rate fees and buy goods and services at duty-free shops using it, not to mention earn reward points along the way! Furthermore, this card features zero reload charges and lifetime free validity.